Colored eyeliner looks can brighten up your eyes in few minutes. If you are applying the black eyeliner every time, then start experimenting with colored eyeliners and bring some change. Blue and gold eyeliner, green and yellow eyeliner, and the edgy ones are the most popular colored eyeliner. Do eyeliner makeup without eye shadow, these looks are worth trying. In this article we are going to discuss how to select colored eyeliner for your eyes and how to apply it.

How To Choose Colored Eyeliner For Eyes?

In your eye makeup, the color of your eyes play an important role when choosing colored eyeliners. As black is the common eyeliner color however when trying out color eye pencils, apply some fundamental rules.

Colored eyeliner shades for brown eyes: purple, gold, turquoise, pink, violet, lavender, aqua, and cobalt.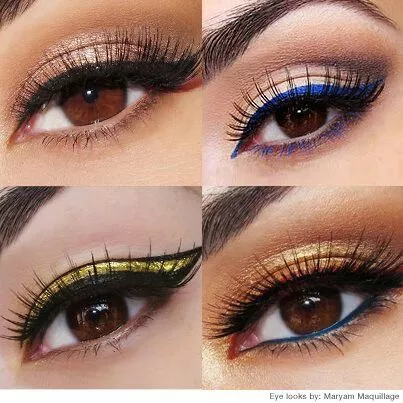 Colored eyeliner shades for blue eyes: rust, bronze, peach, and copper. Use navy blue eyeliner for contrast.

Colored eyeliner shades for green eyes: mahogany, rust, amethyst, bronze.

Colored eyeliner shades for black eyes: use bright colors of brown and pink. you can even use electric blue liquid and yellow eyeliner for contrast.

How To Apply Colored Eyeliner?

If you are looking for eyeliner makeup creativity, don't look further. Here we inform you how to apply colored eyeliner pencils with sufficient examples.

When Using Just One Colored Eyeliner

Applying colored eyeliner on upper lash line: You can take this look at any time and any where with any color. A simple electric blue eyeliner makeup is best if you are going to attend any function. Pair gold eyeliner with brown eyeshadow is best for evening party. Subtle eyeliner colors like pink or grey will look great for office look .

Applying colored eyeliner on lower lash line: Second tip for eyeliner is to apply bright color on just lower lash line and blend it.

Applying colored eyeliner on the waterline: On our waterline we have always used black kajal but if you are new to colored eyeliners, then apply nude eye pencil on your waterline. If you want to take it level up, then use vine and turquoise.

Applying colored eyeliner only on the inner and outer corners of the eyes: For a dramatic eyeliner look, applying colored eyeliner on the both corners of the eyes, inner and outer and leave the center part of your lash lines blank.

When Using More Than One Colored Eyeliners

Applying colored eyeliner just above black eyeliner: This look is best tried with liquid eyeliners. Use colorful matte eyeliners on a black eyeliner and make your eyes attractive. Using silver eyeliner look attractive when going for an evening party.

Applying colored eyeliner to fill black: Try this attractive look of eyeliner, if you are expert at handling liquid eyeliners. Draw the figure with black eyeliner, when it dries up so fill it with another color to avoid a color mess. Even you can try glitter eyeliner as fillers to this look.

Applying one colored eyeliner on one half of lash lines and another color on the second half: This match works good, light and dark complexion of colors are used. You can try colors such as pink eyeliner, mauve and blue.

Applying three colored eyeliners for upper lash line, lower line and waterline: When their is choice for multiple colored eyeliners, ensure that they all look attractive together. For instance, the blue, white and green eyeliner colors look great.
Read more articles related to eye makeup on Luster Eyes.