Provide Proper Vitamins to Your Eyes with Ocuvite Medication
As with other parts of the body, your eyes also requires special vitamins to work efficiently. Deficiency of vitamins may affect the health of your eye and can cause serious problems. Even your eyes start losing the vision due to the inappropriate transportation of necessary ingredients. It's necessary to take the eye vitamins which are present in some foods to prevent this condition. But if there is a deficiency of vitamins, it is required to take proper supplements for this. A renowned medication which can be beneficial for this is Ocuvite medication.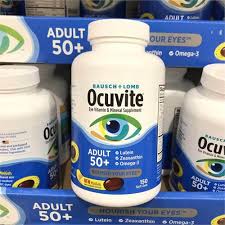 Ocuvite Medication:
The supplements came in various ranges and types to facilitate the people of all the age. But it has some side effects and you should take some precautions.
Causes of Vitamin Deficiency:
Before you start taking this supplement, it is important to know about the root causes of this problem.
Poor Diet
Illness
During Pregnancy Period
Some Eye Problems
How to Use Ocuvite Tablets?
If your eyes have a vitamin deficiency, then you should start this medication as soon as possible. But it is advised to consult your doctor first.
Use it on daily basis to provide proper vitamins to your eyes.
Swallow the tablet directly from your mouth.
Don't take overdoes of this medicine, instead create a checklist and use it daily at the same time.
Use it with the reference of your doctor after proper medication.
Products Family:
They have offered many products for the people of varied ages and varied types (tablets and eye drops).
Ocuvite Adult 50+ – for old age people
Ocuvite Blue Light
Ocuvite Eye Health Gummies
Ocuvite Eye + Multi
Ocuvite Eye Health Formula
Ocuvite Lutein
Ocuvite Lutein & Zeaxanthin
Ocuvite Lutein 25
Side Effects:
Although it is enriched with healthy vitamins there are also some side effects of using these medications.
It can upset your stomach and cause irritation sometimes.
Temporary diarrhea.
Some allergic effects may appear in case of some serious side effects.
It is advised to tell the doctor about any allergic condition because some ingredients used in this medication can be harmful.
What to do in the case on Overdose?
Mistakenly, if you have taken the overdose of this medication, and feel difficulty in breathing, then it's a severe condition. You can call on the 911 free number in case of such an emergency. You may also call to your poison control center as they can protect you more quickly from this condition.
Related Article | Everything You Need to know about Eye Shingles (Early Causes and Treatments)