In the realm of fashion and jewelry, Kendra Scott stands as a shining beacon of entrepreneurial success. Her namesake brand, Kendra Scott LLC, has captivated the hearts and wallets of millions, transforming a passion for design into a multi-billion dollar empire. But how much is Kendra Scott's net worth? Let's delve into the fascinating tale of her financial journey.
Passion for Design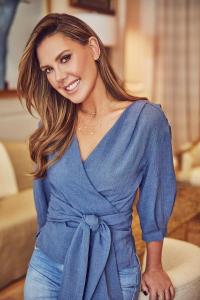 Kendra Scott's story began in 2002, when she, as a college student, embarked on a jewelry-making venture from her spare bedroom. Frustrated by the lack of affordable, colorful gemstone jewelry, she decided to take matters into her own hands, creating her own designs and selling them to local boutiques.
Star on the Rise
Scott's eye-catching designs quickly gained popularity, fueled by word-of-mouth recommendations. Her jewelry, characterized by its vibrant hues and customizable elements, resonated with a wide range of customers, from fashion-savvy millennials to discerning collectors.
Billion Dollar Empire
In 2010, Scott opened her first retail store in Austin, Texas, marking a pivotal moment in her entrepreneurial journey. The store's success paved the way for expansion, and soon Kendra Scott stores adorned shopping districts across the United States.
Growth and Innovation
In 2016, private equity firm Berkshire Partners invested in Kendra Scott LLC, valuing the company at over $1 billion. This investment provided the necessary resources to fuel further growth and innovation, allowing Scott to expand her product line beyond jewelry to include home accessories, nail lacquer, and beauty products.
Endeavors and Empowering Women
Beyond her entrepreneurial achievements, Scott is also a staunch advocate for philanthropy and women's empowerment. She established the Kendra Scott Women's Entrepreneurial Leadership Institute, an organization dedicated to providing mentorship and support to aspiring female entrepreneurs.
Kendra Scott's Net Worth
While exact figures may vary, estimates suggest that Kendra Scott's net worth is around $360 million. This impressive wealth stems from her majority stake in her eponymous jewelry company, which generates substantial annual revenue.
Her entrepreneurial acumen, coupled with her commitment to philanthropy and women empowerment. And has cemented her status as a role model for aspiring entrepreneurs and businesswomen worldwide.
From her humble beginnings in a spare bedroom to her position as a self-made billionaire, Scott has carved a remarkable path in the fashion and jewellery industry. Inspiring countless individuals along the way. Her journey is a reminder that with determination, creativity, and a commitment to making a positive impact, even the most ambitious dreams can become a reality.