Where Should I Live – Things to Consider While choosing a place for You
Many people are unhappy with the current place where they are living. They want to move to another place whose environment, culture and traditions best meet their expectations. Most of us are usually stuck in a question that; Where Should I Live? Moreover, if you are going best place for you, then you must consider some things before you move to other place.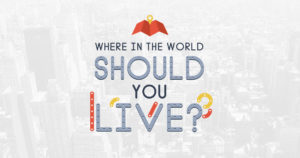 Advantages of Choosing Best Place:
If you choose the best place according to your nature and expectations, you will get immense advantages.
First of all, you will be happier with your life as you have received everything that you have expect.
Secondly, you will be more productive and efficient due to mind satisfaction and peace.
Thirdly, you will have healthy life as the atmosphere best matches to your nature.
Moreover, you can take an active and positive role in the community.
Things to Consider while Choosing a Place:
Before you decided to move in another location, always consider something which can affect your living. If these factors best match your expectations, then you should move to that place.
1.Affordability:
You first concern should be that you can afford the price, rents, taxes, bills and other expenses or not. As every locale have its own rules, policies and prices. You should ask a question to yourself that you can manage all the expenses by yourself or not. If the answer is yes, then you should move to that place.
2. Employment Opportunities:
Another important aspect that challenges the question Where Should I live is employment choices. If you have a settled business in the place where you are going to live, then you should not consider this. But if you have to look at employment options, then must consider employment chances in the city.
3.Crime Rates:
Perhaps, most of the people consider it at the first priority as everyone need safety and security. The number of crime rates and justice decisions effect the reputation of any region. Have a look at the crime rates of the city and then choose the best place as safety comes first.
4.Climate:
This factor directly effects your health and you should take it on account. To test this factor, you have to answer these questions by yourself;
What's my nature? What climate effects my body?
What is the climate of the place where I am currently living? Is it suitable for me?
Moreover, what is the climate of the place where I am going to live?
5.Education System and Culture:
What's the culture of the place is another core question? If you will never hurt with the culture of the region, then you should move instantly. If you are a student or your beloved one are, then high schools and other education facilities may affect your decision.
Other Factors:
Food Option
Population Size
Healthcare Facilities
Community Behavior
Transportation System
Related Article | Top 5 Best Places to Live in Washington State USA (To Buy and Rent)