Face beauty comprises of many steps. There are many to things to remember while doing facial makeup. Every girl desires to look a bit exceptional and adorable. That is why most of the girls are worried and anxious about facial makeup. As we have mentioned before that facial makeup incorporates various parts and steps. However, we are going to discuss all about eye makeup.
We are not going to discuss only the eyes makeup rather the quickest and easiest ways to transform your eyes from customary to magnificent. Eyes are the most conspicuous part of your face so; you have to take every step very carefully while doing eye makeup.
Eye makeup is not a big deal; you can transform your simple eyes to superb level in just five minutes. We are going to reveal some of the quickest and sexy eye makeup looks you can do it in just 5 minutes.
Olive & Purple Eyes


Use a primer to Prep your eyelids.
Now, your lid needs to be swept with a taupe shadow.
Use charcoal gray shadow for contouring the crease of your eye.
Moreover, use bluish-purple shimmery eyeliner on the top lashline.
Use jet-black liner to line the inner upper and lower rim of your eyes.
Finally, Finish with nude gloss touch.
Sultry Rocker Eyes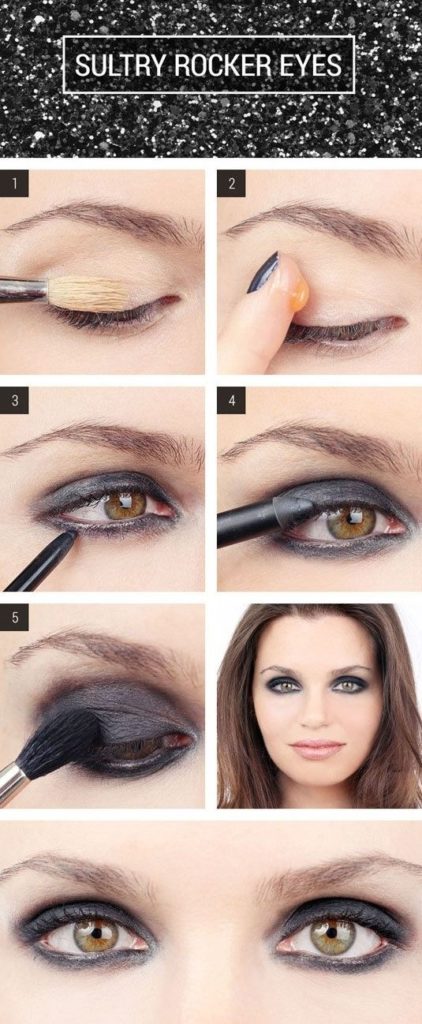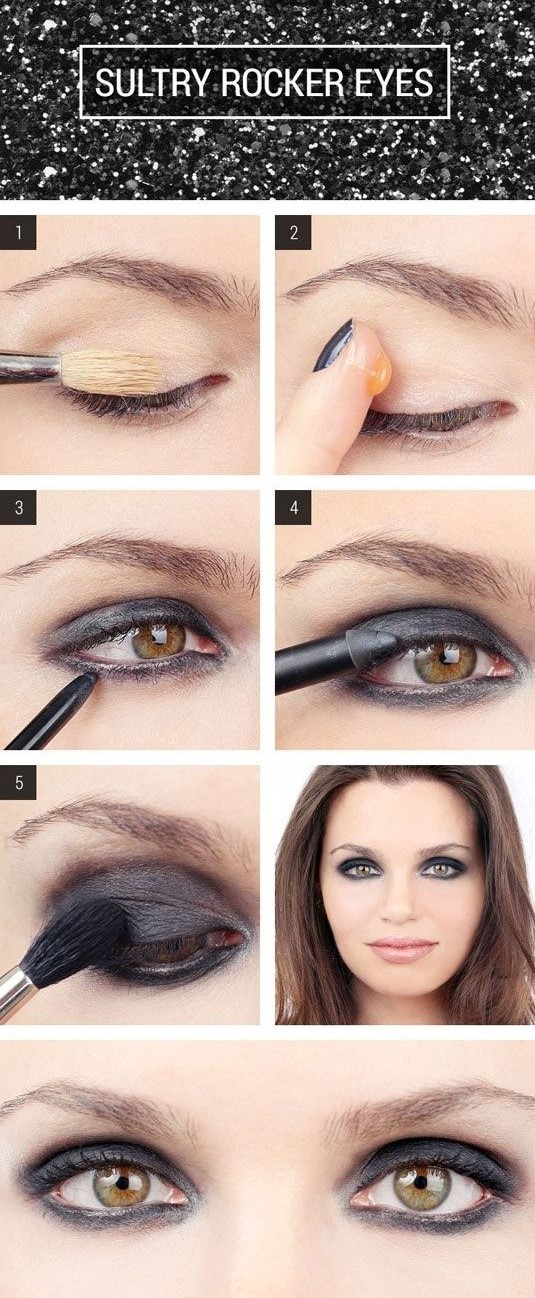 Swirl creamy concealer using a blending brush over the lids all the way to the brow, Cosenza.
You need to get a wet look that is why you may use a bit of any kind of skin protectant on the lid to achieve the wet look.
Use a creamy black pencil liner to line the inner and outer rims of your eyes.
Now, use the same black liner to coat your lids from lash line to crease.
Finally, use some gunmetal gray liner where the black liner ends at the inner corner of the inner eye.
Candlelit Eyes

Candlelit Eye makeup is just so simple and very light transformation which can give your face a truly charming and adorable look.
There are just four basic things you have to follow:
You need just a hint of brown or light golden eyeliner.
Moreover, you have to do shimmery beige on the external portion of your top eyelid, along with creases for shading and along with the base lash line.
And a shimmery gold in inner corners is perfect.
As per the picture, there is a final touch of black mascara on the eyelashes.
Cat Eye Makeup in just two simple steps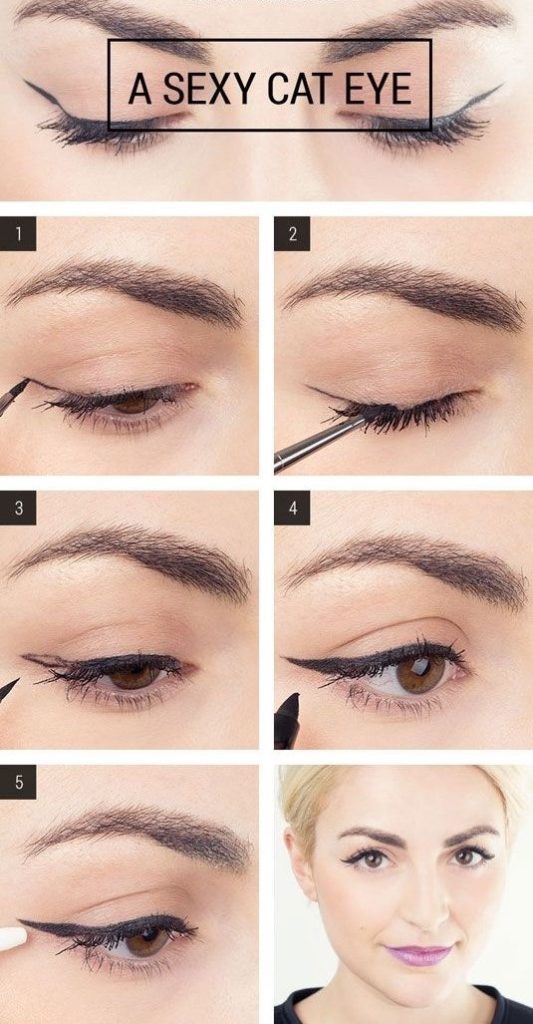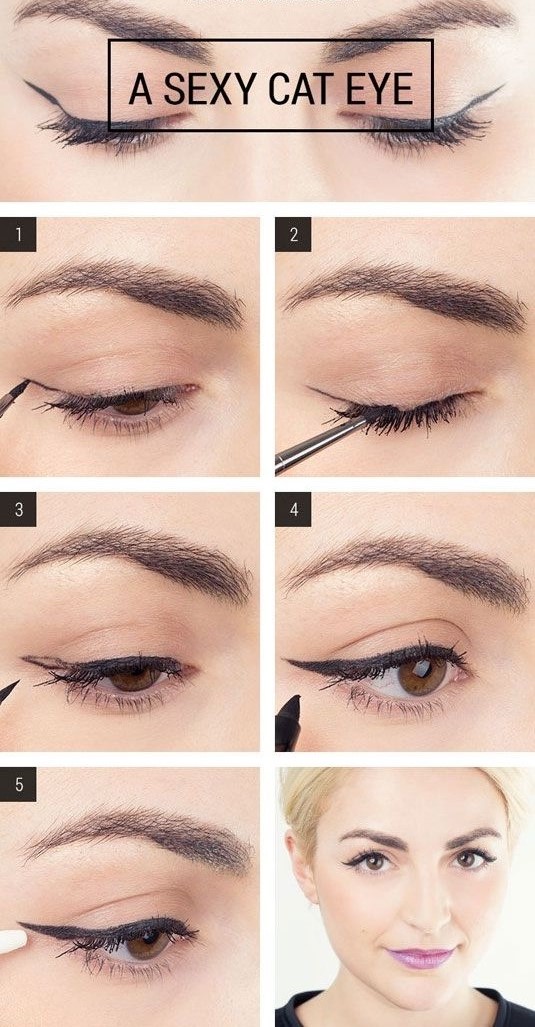 Black eyeliner extended on upper eyelid is the first most steps.
Moreover, shimmery golden on top eyelid gives you a sexy cat eye.
Bronze Smoky Eyes


You have to do shimmery half black and half orange on the upper eyelid.
Moreover, do a glossy light gray coating on the shimmery half black and a brown on a half orange so that they give better contrast.
Most of all, you need a black eyeliner on the upper and lower corners of your eyelids.
Finally, black mascara on the eyelashes is the perfect combination to end up with a bronze smoky eye.
Tropical Teal Liner


Tropical Teal Liner is a bit more catchy and glossy than the previous mentioned eye makeup.
First of all, you have to cover your upper eyelid with a subtly shimmery brown shadow.
Now, using a small eye shadow brush, color your inner corner of your upper eyelid with a shimmery taupe shade.
Make your lower lash line more attractive by a pop of color.
Now, use brow powder for filling in your eyebrows. Moreover, use a lighter brow powder to get natural effects.
Finally, use mascara on your eyelashes to get a perfect look.
Shimmery Eyes


After you are done with your basic foundation and blush now it's the time to do some work on eyes. The basic thing is to get a fine base. You can get a perfect base by applying a light shimmery shadow over your entire eyelid as the base shade.
Moreover, apply a shimmery whitish-gold powder by using a flat eyeshadow brush over your eyelid so that you can get a sheer wash of color that gives off a gold cast.
Now it's time for some glossy effects, for this purpose use a bronze eye shadow. There is one thing that must be kept in mind that you have to apply shimmery bronze on the center of your eyelid where the white shimmery shadow ends. Move your eye shadow brush out toward the outer corner of your eye to get a fine shade.
Now, you have to intensify the outer corners of your eyes with a mixture of deep brown and black eyeshadow. Just apply the mixture to the outer corners of your eyes.
Finally, line your eyes to give your eyes a cat eye look.
Bold Liner/Vibrant Lip


Bold Liner
Trying something more glossy and radiant is always a good idea. So, for bold liner eyes, first of all, you have to use a black cream liner to create a cat eye effect.
For making this cat eye effect more attractive make your winged eye pop by layering a teal color on it.
Finally, fill in your eyebrows with an ebony colored eyebrow powder shade.
Vibrant Lip
For vibrant lip first line your lip and then fill in your lip with a loud color i.e. cherry.
A Mod Smoky Eyes


Use a brown pencil to line the outer rim of your eye. Moreover, to give it a diffused effect, smudge it.
Now, apply an eyeshadow to the crease of your eye and blend it outward to get a smoky effect.
Furthermore, you have to intensify your eyebrow with a brow powder. As always mentioned use a light brow powder so that your brows look as natural as possible.
Line the waterline of your lower lid by using waterproof nude eyeliner. Moreover, trace the lower inner rim of your eye to instantly make the whites of your eyes pop.
Use mascara for your eyelashes so that they open up a bit more.